I love these
craft
rooms
. Home decor is something I'm passionate about. I really think that having a room like these would really add to my craftiness. What do you think? Do you have a special place to organize yourself? Each of these rooms speaks to me in various ways.
For instance, this first room with the metal baskets is a perfect setting for a small place. The backsplash of this desk area is an inspiration board which I love! The cane chair adds a special flair! Don't you just love those little cubbies?

Country Living
I find this room to be very soothing. The wall color calms me and I love the cork storage board on the wall! The pendant lights over the center storage unit are classic elegance.
 
flikr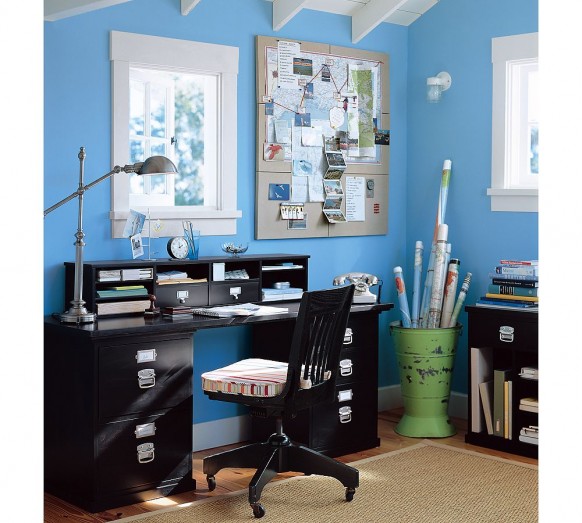 This black desk with small hutch is lovely to look at. The desk appears to be two file cabinets with labels on each draw for organization. Let's face it, what doesn't look lovely from Pottery Barn-it's just the price that isn't always so lovely! lol!
desk
photo from wookiemouse from Rate My Space
This is one of my all time favorites. I love the black storage table in the middle of the room with the white storage boxes. I love the crispness of the white cabinetry. The black and white patterned easy chair and matching valance add that special homey touch and you know you can settle in with a good craft book.
This is probably the largest room of all. I love the femininity of this lavender room. The full wall of storage is phenomenal and I can't imagine having this amount of space ever!
These are just a few craft rooms/areas that really caught my eye. This is a goal of mine for 2011. I'm not sure if it will be a room or desk area but I really want to create "my space" and I will!! So take care for now-gotta fly-Claire